Podcast: Play in new window | Download (Duration: 54:00 — 49.4MB) | Embed
Subscribe: Apple Podcasts | Android | Email | Google Podcasts | Stitcher | RSS | More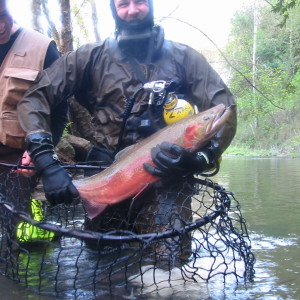 Monterey Bay Salmon and Trout Project Executive Director Ben Harris talks about the importance of salmonids—salmon and trout— in maintaining the ecological health of ocean and land.
Harris explains how and why Pacific salmon populations have drastically declined, and describes efforts underway to help native Monterey Bay populations of Coho and Steelhead recover from the brink of extinction. He also discusses why farmed salmon should be "off the table" and how food choices we make at the market can affect not only the fate of the fish, but also the health of the oceans and our own well-being.
Harris pursued his life-long interest in fish by earning his B.S. in Fisheries Biology from Humboldt State University in California and then an M.S. in Fisheries Resources from his native West Virginia University. One of his goals as the Executive Director of MBSTP is to bring back the much-loved Salmon and Trout Education Project.